Celebrating 100 Years of Making Democracy Work
Events - Photos - Documents - Member Login
New!!  Curious about what's trending on the LWV St. Mary's County Facebook Page?  Click Posts.
New!! Get personalized election information by entering your address.  Go to LWV VOTE 411.
The League of Women Voters of St. Mary's County, Maryland (LWV-St. Mary's County), is dedicated to providing well-researched and unbiased information so that all voters may become better informed.
During Elections, LWVSMC assists people to become more informed participants in their community and their government by:
producing Voters Guides;

assisting at voter registration drives and providing information about voting; 

and hosting forums for candidates.
LWVSMC also:
researches issues such as transportation, housing, environmental concerns, campaign reform, etc. then produces Fact Sheets;

conducts community forums on local, state, and national issues;

distributes informational brochures and pamphlets;
and provides information about government on the national, state, and local levels.

________________________________________________________________________________________________________
IMPORTANT INFORMATION & UPCOMING EVENTS
LWVMD 2020 Winter Workshop
Saturday, January 25, 2020
9:30 AM to 1:30 PM
EARLY BIRD PRICING before 1/17 - $25 LWV Members/$30 Non LWV Members
AFTER 1/17 $30 LWV Members/$35 Non LWV Members
For more information and to register, click Workshop.
THE LEAGUE OF WOMEN VOTERS' 54TH NATIONAL CONVENTION
Hosted by the League of Women Voters National Capital Area (LWVNCA)
JUNE 25 - JUNE 28, 2020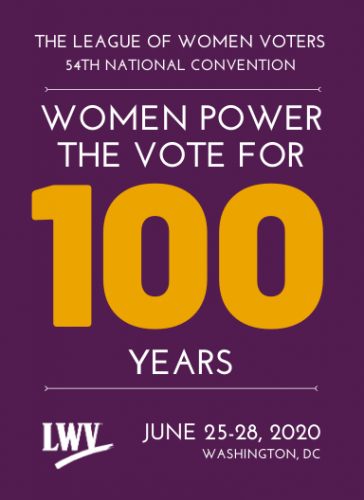 Click National Convention for more information and updates.


GET THE ELECTION INFORMATION YOU NEED.
GO TO LWV VOTE 411

CENTENNIAL of Women's Right to Vote
Click 19th Amendment to view LWVNCA-hosted Centennial Events and Resources page.
ST. MARY'S COUNTY CENSUS 2020
How St. Mary's County Plans to Increase Participation in the 2020 Census
Schedule of Upcoming Census 2020 Complete Count Meetings
Open to the Public
2020 ELECTION INFORMATION & DATES--ST. MARY'S COUNTY
2020 PRESIDENTIAL PRIMARY ELECTION DATES:
Thursday April 16, 2020 through Thursday April 23, 2020
Voting Hours: 10 AM-8 PM (Everyday including Sat. & Sun.)

2020 PRESIDENTIAL GENERAL ELECTION DATES:
Thursday October 22, 2020 through Thursday October 29, 2020
Voting Hours: 8 AM-8 PM (Everyday including Sat. & Sun)

The Early Voting location is:
Hollywood Firehouse Main Building
24801 Three Notch Road
Hollywood, MD 20636

If you need any further information please call:
St. Mary's County Board of Elections Office (301) 475-4200 ext. *1625
Click Flyer to view and download St. Mary's County BOE 2020 Election Information & Dates document.