Officers & BOD   Events - Publications & Resources -  Photo Gallery - Voter Resources   Membership



Celebrating 100 Years of Making Democracy Work


A Mighty Girl's Tribute to Women's Rights Activists

 

 

 




Next LWVPGC Monthly Meeting: 10 AM-12 NOON, Saturday, February 1, 2020

Click Membership to Join or Renew for 2019-2020


NEW!!  2020 VOTER REGISTRATION & ELECTION INFORMATION

Click Voter Registration for Requirements & Other Important Information Relevant to Prince George's County Residents.
Click 2020 Presidential Primary Election for Important Dates & Click Early Voting Information for Prince George's County.
Click LWV VOTE 411 to get personalized election information by entering your address.


 
The League of Women Voters, a nonpartisan political organization, is dedicated to providing well-researched and unbiased information so that all voters may become better informed. Use the Search Box above or browse this site for information and links to useful and valuable information on the national, state, and county level. 
We also wish to encourage your personal and direct contact with us for information about League activities in our county. For example:
Are you interested in what studies we may now be pursuing? 
Or, whether we may be able to partner with you on a local issue?
Interested in when and where we meet, or what League events are now being scheduled?
Wondering what community services we can offer you? 
Would you like to subscribe to our newsletter and action alerts?
You may register on this site. All LWV members in Maryland should register.
For more information, please send your inquiry to:
              League of Women Voters of Prince George's County
              PO Box 771
              Bowie, MD 20715-9997
              
              Or contact Co-Presidents:
              Joyce Duckett, jduckett@lwvmd.org
              Deborah Mitchell, dmitchell@lwvmd.org
              LWVPGC Office:  301/458-0760
                                lwvpgc@gmail.com                      
---
IMPORTANT INFORMATION & UPCOMING EVENTS

Give Us the Ballot Town Hall Discussion
Re Expanding Voting Rights for Eligible Marylanders Who are Incarcerated
Monday, January 20, 2020
4-6 PM
Lanham United Methodist Church
Lanham, MD




Click facts to learn more about this voting rights issue.

LWVMD 2020 Winter Workshop
Saturday, January 25, 2020
9:30 AM to 1:30 PM
EARLY BIRD PRICING before 1/17 - $25 LWV Members/$30 Non LWV Members
AFTER 1/17 $30 LWV Members/$35 Non LWV Members
For more information and to register, click Workshop.
LWVPGC Monthly Meeting
Saturday, February 1, 2020
10 AM to 12 NOON
Collington Life Care Community
10450 Lottsford RD
Mitchelleville, MD 20721
THE LEAGUE OF WOMEN VOTERS' 54TH NATIONAL CONVENTION
Hosted by the League of Women Voters National Capital Area (LWVNCA)
JUNE 25 - JUNE 28, 2020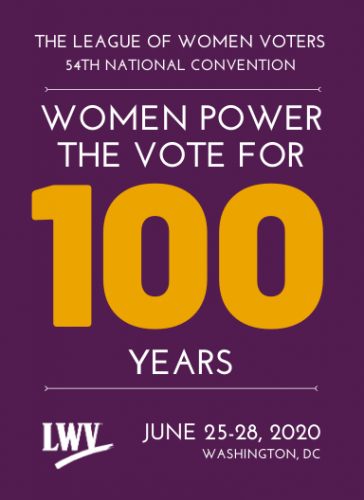 Click National Convention for more information and updates.


Click LWV VOTE 411 to get personalized election information by entering your address.

CENTENNIAL of Women's Right to Vote
Click 19th Amendment to View LWVNCA Centennial Events and Resources Page.
PRINCE GEORGE'S COUNTY CENSUS 2020